OUR RESULTS
Katrina's Angels is proud to share the accomplishments of our volunteers. What makes the results amazing is that they are produced by people volunteering their free time with virtually no financial resources. There are no paid positions in our organization. We are also sharing the results that our partner organizations produce with our support.
2013 Results
February:
Hurricane Sandy Aid: Joined efforts with the help of Katrina's Angels Community Coordinator Sandra Mahoney and fellow volunteer Mandy Bickerstaff of UWS Loves. Purchased ranges and microwaves from EBA and had them delivered and installed thereby providing means in which disaster survivors could safely prepare food for themselves and their neighbors. Katrina's Angels used EBA as the supplier as they are local so it helped to stimulate the local economy. For instance, one hurricane survivor in the Gerritsen Beach area received one of the microwaves and helped to feed approximately 250 people daily after the storm.

Katrina's Angels also donated some handmade afghans to be distributed to those in the area, and helped many families on our list keep warm with new winter apparel as well.
2012 Results
December:
Katrina's Angels donated two boxes full of brand new items: 60 pairs of beautiful new childrens socks, 2 scarves, 8 pairs of very new gloves & mittens plus several underwear items to the Gerritsen Beach area. Thanks to Omron, Inc.of Lake Forest, IL  for handling the drive among their staff.
November:
Hurricane Sandy Aid:  Homeland Security Customs & Boarder Patrol from Buffalo, NY had a truck going to NJ & NY filled with supplies and Katrina's Angels helped them fill that truck up with personal hygiene supplies, flashlights, hand sanitizer etc. A big thank you to the guys who drove the truck down, and to Financial Director Cheryl Bystrak who made sure Katrina's Angels donations made it onto the truck!
Thanks in part to a drive handled by Katrina's Angels HR Director Gigi Grizanti, a truck and u-haul left Tonawanda, NY with: warm clothes, sweaters, cleaning supplies, rubber gloves, sponges, blankets, rain gear, scarves, hats, make-up (yes, we sent make-up because us ladies feel a little better with some moisturizer and color), toiletries, socks, food, paper products, gasoline, etc! Thank you also to Chuck Gilbert, Victoria Gilbert, and Kimberly Kluge-Pruitt who organized that shipment of supplies to NYC to help victims of Hurricane Sandy!
Katrina's Angels Program Director received in kind-donations and sent 6 boxes full of supplies to Staten Island including 2 boxes of ladies and mens sweaters, jackets, and long-sleeved shirts including some mens 3XL; 1 box full of kids items including warm toddler boys clothing, a few jackets, pairs of gloves, scarves, hats; a box full of personal hygiene and other sample items; a box containing everything for a luxury queen sized bed from sheets and pillowcases to shams and comforter; a box full of kids shoes and a pair of new mens boots; plus some people food and dog food. All items were in excellent condition and for the appropriate fall/winter season. Thanks to volunteer Michele Tatela and the Hurricane Sandy Relief Run in northern Illinois.
On November 2, we received a message from Lawrencehealth.org. They wanted to thank us because with all the communication difficulties, "Your information is being used greatly at the hospitals in the affected areas." They were referring to our forum at http://groups.yahoo.com/group/KatrinasAngelsinActionForum.
2011 Results
VA Flood Aid: Katrina's Angels Community Coordinator Janet Arp delivered the following to flood victims in Woodbridge, VA.: 16 boxes of laundry detergent, 32 cans of tomato and chicken noodle soup, 13 bars of soap, 1 shampoo, 2 dish soap, bag of razors, 4 stuffing mixes, 1 Adobo seasoning spice jar, 1 toothpaste, 2 body wash, 5 deodorants, 2 Twin Size comforters (new), Washrags, new Womens underwear (various sizes) 44 pairs total, new Kids socks (various sizes) 48 pairs, a bag of samples (toothpaste, floss, soaps), a few kids small toys and kids school folders.
JoplinTornado Aid: Donated a case of new full size color sheet sets (12 sets) and a case of bath towels in tan to be distributed by Help Us, Help Joplin ~ Families Helping Families in Joplin, MO following the May tornado
Helped fulfill the needs of over 60 families in 4 states following the April and May tornadoes while teaming up with several groups on the ground who verified families specific needs.
Donated approximately 10 sets of ornaments to Christmas in Dixie for Tornado Survivors
Donated 50 disposable charcoal grills to Disaster Relief for Spaulding County in Griffen, GA following the April tornadoes
Donated 6 child-size life jackets in two sizes and a box of children's items to Maarja Krump for ND flooding relief
2010 Results
Established new toll free number
Hosted Charity Raffle for Arkansas Flood Victims from Louisiana; Raised over $4,200 for the Smith and Basinger families
Assisted Neighbors Across the Land Disaster Relief & Recovery (NATLDRR.org) with flood survivors in both Iowa and Illinois
2009 Results
February:
Clarence, NY Clock Tower Dedication in honor of Flight 340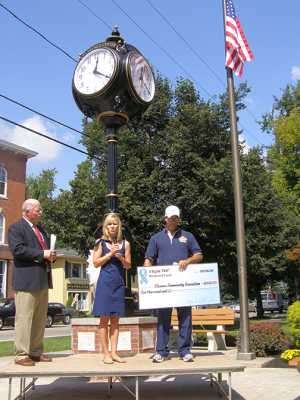 KA donated $250 toward this memorial located near the sight of the Flight 3407 air crash that cost 50 lives on February 18, 2009.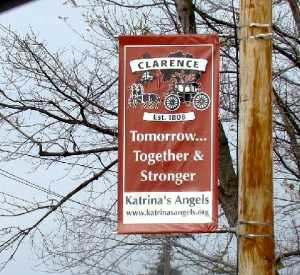 A banner displaying Katrina's Angels is now on display in Clarence.
class="MsoNormal">uot;Arial","sans-serif";">March,2009 Underwear & Sox - ;School Supplies Campaign in Denver, CO
KA Consultant Robin Peak and other KA volunteers joined Kohl's employee volunteer efforts in their community. KA then received $500 From Kohl's toward our Underwear and Sox Campaign for Galveston. See more in KA's blog here.
April, 2009 Underwear & Sox Drive for Galveston, TX
The Graduate Student Association of North Carolina Central University, Durham, N.C., led by Chief Executive Counselor Kenya Reed, held their own sock drive when they heard of our cause. Several boxes of donated socks were sent to Galveston Salvation Army in Galveston, TX on Tuesday April 21, 2009.
April, 2009 Severe flooding in Detroit Lakes, ND and surrounding area
Katrina's Angels donated $250 toward United Way Flood Relief in Detroit Lakes, ND for cash assistance to flood victims.
May, 2009 Flooding near Prairie Du Sac, WI
Dave Frosch of Crystal Lake, WI informed Katrina's Angels that a group of 15 to 17 mobile homes located on the lake were endangered by flood waters. They needed help. Fortunately, a pump was put in place to move some of the water into the Wisconsin River, therefore keeping the homes protected. Unfortunately, the pump ran 24/7 on diesel fuel that costs $2 a gallon. Considering that roughly 1,000 gallons of diesel are used every seven to ten days, it becomes obvious just how costly the water pump had become. The pumps needed to be up and running until September in order to prevent flooding. The people who will be impacted the most if the area flooded would be the permanent residents (17 residences) who do not have financial means to protect or restore their properties. Katrina's Angels donated $300 toward the fuel costs to the Crystal Lake Emergency Fund to keep the pump running and prevent further damage. We also blogged and posted their needs everywhere we could.
June, 2009 Social Worker Contact
Hearing about our National Resource Directory, a social worker from Battle Creek, MI contacted Katrina's Angels about needing medical equipment for a patient that was not supplied by Medicare. KA sent various resources and hopefully the proper information to help.
July, 2009 Yugsters.com
Thanks to some great voters, Katrina's Angels won the monthly grant contest in the amount of $214.50!
September, 2009 Atlanta, GA Flood Relief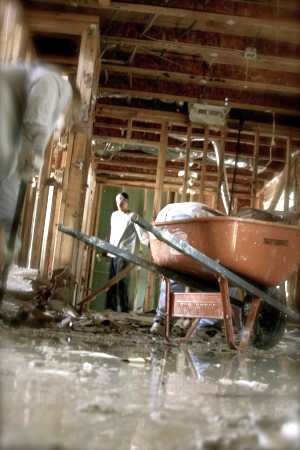 Following severe flooding in the Atlanta, GA area, Katrina's Angels partner Greg Conklin, Response Director of Neighbors Across the Land Disaster Relief & Recovery (natldrr.org), helped with cleanup and also delivered much-needed supplies, including handing out Katrina's Angels tote bags filled with personal hygiene and other items, four cases of school supplies, and other items provided by KA.
Gowanda, NY Flood Relief October, 2009

A Katrina's Angel volunteer fills relief bags

Look at all that yummy food!

Time to feed the youngest participants!
Katrina's Angels (KA) partner Greg Conklin, Response Director of Neighbors Across the Land Disaster Relief Recovery (NATLDRR) delivered water, hazmat suits, bleach, hygiene kits, and all other relief supplies to the local distribution center. This included cases of bleach, cases of water, and other items donated to KA by Home o vDepot. Loggers Donald Winter and his business partner acted as Hands-on Volunteer Angels cutting downed trees. Other KA Angels, Cheryl Bystrak and Amber Over, cooked and fed volunteers and victims at the shelter. Angel Mark Krawczyk assisted Greg with cleanup and delivery of the relief supplies, which also included a truckload of donated furniture received by NATLDRR.
At Christmas, Katrina's Angels Vice-President and Financial Director, Cheryl Bystrak, got volunteers together and held a little party for ten of the largest families of flood victims that were not receiving help from other groups. Names were supplied by the Tri-County Recovery Center. Pizza, cookies, and pop were served. Each child received a stocking filled to the brim with goodies and toys. Each child also received three toys supplied to Katrina's Angels by the US Marine Corps Toys for Tots Foundation.There were 34 children in all. And each family received a $50 gift certificate to purchase their Christmas dinner items, and a new, green Christmas throw blanket with a snowfake pattern on it. In addition, toys were also donated to a local group of families in need. And KA's very special family, a wounded Iraq veteran and his family, received a large amount of items to be used to restore the supplies and teaching items for their autistic son that had been lost.
Fundraising Auctions Always a Success
In addition, successful Katrina's Angels Fundraiser Auctions held by AuctionsRFun and on Missionfish continue to be a blessing to Katrina's Angels. Please continue to go to those sites and help us by purchasing some auction items. See http://www.katrinasangels.org/auctions.asp
Katrina's Angels was able to accomplish the following measured results in 2008:


Alternative to Dumping - Going Green Project
A truckload of building supplies, mostly flooring, was sent to Lakeshore Baptist Church in Lakeshore, MS from Jaeckle Distributors in Madison, WI. (http://katrinasangelsblog.blogspot.com/2008/01/second-truckload-of-supplies-has.html) Competed 1/28/08

Word got out in Floor Covering Weekly, a national trade publication, that we could use discontinued items for disaster victims. See article (http://www.floorcoveringweekly.com/ME2/dirmod.asp?sid=&nm=&type=Publishing&mod=Publications%3A%3AArticle&mid=8F3A7027421841978F18BE895F87F791&tier=4&id=4B906C6C2FD8445DB03BF121DF57DF27) Completed 3/06/08

Twenty two pallets of ceramic tiles already headed to New Orleans were donated to The Green Project in New Orleans. These are mostly flooring tiles. They were donated by Jaeckle Distributors in Madison, WI. (http://katrinasangelsblog.blogspot.com/2008/04/jaeckel-donates-again.html) Completed 4/16/08

Jaeckle Distributors in Madison, WI donated 9,000 sq. ft. commercial grade composite tile, 13 or so solid surface sinks, 400- 500sq. ft. of tile, 150 sq. ft. wood laminate flooring, 3 skids of misc. cabinetry hardware. (http://katrinasangelsblog.blogspot.com/2008/04/going-green-update.html) Completed 4/22/08

Jaeckle Distributors of Madison, WI were the donors. (http://katrinasangelsblog.blogspot.com/2008/10/remember-jaeckle-distributors.html) Completed 10/03/08

Launched Facebook Causes Page by Resource Angels Shayna O'Kelley and Marlene Reindl. Our page is at: http://apps.facebook.com/causes/97448/16502055?m=95ac708a&ref=nf. Completed 6/23/08

Launched MySpace Causes Page by Resource Angels Shayna O'Kelley and Marlene Reindl. Our page is at: http://profile.myspace.com/Modules/Applications/Pages/Canvas.aspx?appId=100691. Completed 6/23/08



Midwest Floods 2008…Iowa Flooding Project



Crystal Bevans, a Community Angel volunteer from Iowa State University, collected donations for us to give to Greg Conklin. Greg was 5 miles outside of Parkersburg, Iowa and was from Operation Love Thy Neighbor. Katrina's Angels also sent $1,000 to help buy flood buckets and other supplies. Completed 6/24/08



Angel of the Month Award Created



2008 Winners: Oct - Resource Angel Shayna O'Kelley; Nov - Medical Angel MIkki Sullivan, RN; Dec - HR Angel MaryAlice Bartlett. Completed 8/20/08



Jenny Miller Holds Car Wash For KA in Okemos, MI



With her mother, Barb Lezotte, as Katrina's Angels Community Coordiinator for the event, Jenny and her friends made around $350 which they donated to Katrina's Angels to help flood survivors: http://katrinasangelsblog.blogspot.com/2008/09/jenny-millers-car-wash-success.html
(http://katrinasangelsblog.blogspot.com/2008/08/car-wash-fundraiser-in-michigan.html) Completed 8/23/08



Hurricane Gustav Response



Freecyclers in Sterling, VA sent lots of books, magazines, and kids learning books under the watchful eye of KA Consultant Janet Arp. One of the freecyclers even donated some paint kits and school supplies. These items went to Red Cross Shelters in Texas. (http://katrinasangelsblog.blogspot.com/2008/09/katrinas-angels-sends-books-to-red.html) Completed 9/30/08

Katrina's Angels was able to accomplish the following measured results in 2007:



August 24, 2007 Katrina's Angels was incorporated in the State of New York and is an official 501(c)3 Public Charity!



Schools, Libraries & Communities Project


Directed 520 books donated by the IAM Foundation and Bella Vista Elementary School, Salt Lake City, Utah to Our Lady of Prompt Succor School, Chalmette, LA Completed 1/4/07

Directed large donation of art supplies from Leaders of Tomorrow Outreach and Natalie Sandy of Infinite Possibilities in St Albans, NY to Rabouin H.S. in New Orleans, LA Completed 1/4/07

At the request of Katrina's Angels, Julie Lambert of our partner, Critters for Katrina, shipped 255 Critters (stuffed animals and toys) as follows: VOAD, Lee Ann Wardlaw Davies, Family Resource Center, Baton Rouge, LA 70815-5509 for 35 kids, ages 0-18; STARC, Beth Dove, Slidell, LA 70460 for 70 kids, ages 5 and under; Louise Head Start Center, New Orleans, LA 70115 for 50 kids ages 5 and under; Katrina's Angels Community Coordinator. Donna Walker, Hattiesburg, MS for 100 kids Completed on Easter, 2007

First Book National Book Bank Book Relief awarded Katrina's Angels approximately 422 books (in 4 boxes) under the New Orleans Book Relief 2007 program which were shipped to Louise Head Start Center Attn: Ms. Iris Merlos, 1205 Louisiana Avenue, New Orleans, Louisiana 70115 to be given to 50 kids ages 5 and under. These books included great titles such as Blue's Clues and TeleTubby character books Completed 3/30/07

Katrina's Angels directed IAM Foundation and MS Linda Weisburg, District Librarian, Greenon School District, Springfield, OH to ship a donated set of 1990 Encyclopedia Brittanica in perfect condition, leather bound and edged in silver, which was graciously accepted by Rabouin High School in New Orleans, LA Completed 4/22/07

Katrina's Angels directed IAM Foundation and Sarah Feret to ship 80 donated books to St. John Jr/Sr High School, Gulfport, MS Completed 5/3/07

Katrina's Angels directed Tonia Rensberger's 5th Grade class at Model Elementary, in Goshen, IN to send their donated Scholastic books to a fifth grade class at Lanier Elementary School in Baton Rouge, LA Completed 5/25/07

First Book National Book Bank Book Relief awarded Katrina's Angels 990 books under their Summer Reading Initiative Program May 2007 which were sent to Family Resource Center, 1933 Carolyn Sue Dr., Baton Rouge, LA 70815-5509 and distributed by LeeAnn Wardlaw Davies, Volunteers of America GBR Completed 6/4/07

Katrina's Angels directed a donation of over 5,000 books courtesy of IAM Foundation, Alpha Phi Omega, and Chris Fleming of Danville, KY, with 19 boxes of books sent to STARC in Slidell, LA, and 38 boxes of books sent to Hattiesburg, MS. Thanks to shipping arranged by Citizen Action Team and donated by UPS Air, Louisville, KY with Slidell books being distributed by Beth Dove of STARC and Hattiesburg books being distributed by Katrina's Angels Community Coordinator Donna Walker Completed 7/07
Lady Lake Tornado Victim Relief
Contacted by Joan Barton, whose in-laws were in desperate need following the tornado in Lady Lake, FL. Katrina's Angels then sent a list of additional resources: FL Area Resources including area food banks, free/low cost clinics and dental care, prescription assistance information, Financial Aid for Eye Care, Angel Food Ministries, LIHEAP/Phone Programs...things to help them get over the hump. Joan Barton thanked us for this information as she didn't know where to turn. Completed 2/7/07
Baton Rouge Easter Project
Project to aid evacuee and underprivileged kids in Baton Rouge for Easter Katrina's Angels donated 7 lbs jellybeans, pastel Easter eggs, foil chocolate eggs, and various other treats and toys for Easter baskets distributed by VOAD Family Resource Center, LeeAnn Wardlaw-Davies, 1933 Carolyn Sue Dr., Baton Rouge, LA 708155509 Completed Easter, 2007
Aberdeen, SD Flood Relief
Partnered with Greg Conklin, National First Response Director, Operation Love Thy Neighbor, Katrina's Angels sent $1,000 to cover emergency cleaning supplies for victims. (See http://www.operationlovethyneighbor.net ) Completed 5/07

Alternative to Dumping – Going Green Project

Jaeckle Distributors, Madison, WI, donated 18 pallets of building supplies to Katrina's Angels. These pallets were filled with electrical plates, towel rods, door knobs, cabinet pulls, wood and laminate flooring, ceramic tiles, etc., and even glues, grout, sand paper, and other items to install them. Jaeckle even paid the cost for Katrina's Angels to ship the items to Hope Missions, Angie, LA. 35 Families were helped in rebuilding!!! For more information, see http://katrinasangelsblog.blogspot.com/2007/12/local-distributor-donates-truckload-of.html See Photos at http://ph.groups.yahoo.com/group/KatrinasAngelsinActionForum/photos/browse/6432 Completed 12/6/07

03/07/07 - Article published in the web site of WGRZ-TV Buffalo New York covering tornado damage in Americus, Georgia | Click here to read
03/18/07 - Article published in the Pittsburgh Post-Gazette | Click here to read http://www.post-gazette.com/pg/07077/769846-54.stm

Among other things, Katrina's Angels was able to accomplish the following measured results in 2006:


01/01/06 Katrina's Angels assisted Mary Ross of Direct Help Network by donating quilts we received which were distributed to disaster victims at the opening of a free shop in the Gulf. Opening attended by Housing Director Cheryl Bystrak and Community Angel Rochelle Puccio

01/01/06 Mardi Gras Pennington Quality Markets, CA, donated a portion of the sales for the day which totaled $578.

01/13/06 Resource Director Karen Iwicki received an SUV full of new items received from Thomas Jefferson Middle School, Milwaukee, WI and a local FLYlady group to be distributed to clients

02/01/06 Janet Arp opens the eBay store for Katrina's Angels, selling in-kind donations for cash to help disaster victims

02/11/06 Donated quilt auctioned on eBay

02/20/06 AIA Message 868 Katrina's Angels in the news (Baltimore, Feb 20, 2006)

04/01/06 Easter Goodies sent to Social Services in MS

04/01/06 KA Angel Pauline Hennig headed to the gulf to deliver Easter goodies, clothing, household items and more to KA clients (See AIA Message no. 625, 1205, 1270, 1392)

05/01/06 Helped clients from MS and HI

05/01/06 Korean Presbyterian Church POB gave large cash donation to help clients

05/12/06 Volunteer Kit Rault delivered 3 moving boxes each full of supplies to 16 families in LA. She is happily living back in LA and is giving up her AZ apt.

05/12/06 Program Director Conni Davis interviewed for articles by the Disaster News Network

05/14/06 Chartermark Mortgage gave authorization for a down payment grant to a client facing homelessness

06/01/2006 Resource Director Karen Iwicki started Schools, Libraries and Community Centers Drive More results on that can be found here: Drive

06/30/06 Magnum's Force c/o Mayte Padron, WPLG-TV, ABC, Miami contacted Katrina's Angels. They had money they wanted to distribute to hurricane families. They asked us to provide 9 families that were in need. Those in most need were selected and helped. Funds included first and last month's rent and security deposit.

07/13/06 Began coordinated book relief effort with IAM Foundation

07/25/06 Began partnership with Critters for Katrina, a group that collects and distributes stuffed animals and toys to children of Hurricane Katrina in need

08/01/06 Article published in the Redbook Magazine features Katrina's Angels client and mentions organization (Posted in the Angels In Action Forum under photos)

08/01/06 Received about 200 President's Challenge T-shirts which Katrina's Angels Community Coordinator Andrea Garland distributed in New Orleans, LA

08/04/06 Received delivery of brand new brand name clothing for MS-area and LA-area clients in need including three pallets of new summer clothing and used baby clothes and some cases of food

08/11/06 Katrina's Angels beagn arrangements for a Thanksgiving Dinner for 500 at Restoration Revival Center in Moss Point, MS

08/11/06 Created keychains and business cards with our logo which were distributed to clients

08/15/06 Received large donation of fabric for new Warm Families program. Some distributed to sewing group in MS

08/17/06 Received massive delivery of new clothing from HANDS to Katrina's Angels' clients in LA, MS, and GA

08/30/06 Began working with First National Book Bank Book Relief to get new books distributed to various client communities

09/14/06 Junior Angels raised over $300 through a raffle led by Community Coordinator Andrea Mau

09/26/06 Received word that HANDS would supply KA with 80 smoked turkeys for Thanksgiving Dinner in Moss Point, MS Also received 6-8 computers with peripherals, a fax machine, and an overhead projector for the Restoration Revival Center, as well as 150 gallons of stain and paint to be used in rebuilding, especially Moss Point Emergency Shelter

10/12/06 Began Magnificent Happenings Newsletter from Resources to all volunteers

10/28/06 Fulfillment Director Janet Arp attended the local Make a Difference Day Volunteer Fair in Leesburg, VA handing out 65 informational packets about KA

11/18/06 Some Katrina's Angels helped make repairs to the Moss Point Emergency Shelter.

11/20/06 Created Thanksgiving Gala and Dinner event in Moss Point, MS, feeding more 700 people. Boxes of supplies including canned food, personal hygiene items, books, and new toys were also distributed to each family. A quilt raffle was held with distribution of about a dozen quilts to families.

11/26/06 WLOX-TV Biloxi Mississippi reporter Keli Rabon covers Katrina's Angels 2006 Thanksgiving Dinner in Moss for news story

12/01/06 The Key Club in Wyoming held The Power of Music Fundraiser auctioning items from the Goo Goo Dolls and raised over $1,800 for Katrina's Angels programs.
PARTNERS



2006 Partners include:


HANDS - Helping Americans Needing Disaster Support - www.hands.ms
Critters for Katrina's Kids - a group that collects and distributes stuffed animals and toys to children of Hurricane Katrina in need



Katrina's Angels was able to accomplish the following measured results in 2005:



Volunteers Registered: 800
Active Volunteers: 118 Evacuees Registered: 961
Evacuees Fully Served: 380 Housing Postings: 591
Housing Requests: 357 Job Postings: 160
Job Requests: 168


9/02/05 - Became the one of the first national grass-roots volunteer non-profit organization created in response to Hurricane Katrina

11/18/05 - Acquired and maintained KatrinaHousing.org providing 30,000+ housing listings in its database
HOUSING DEPARTMENT
11/18/05 - Acquired the housing web site KatrinaHousing.org, providing a database of 30,000 housing offers

11/18/05 - Partnered with HomesForKatrina.org
RESOURCE DEPARTMENT

10/31/05 - Angels in Action created to help evacuees with clothing, household goods, provide information and to address employment issues and housing issues.

11/05/05 - Helped client with her wedding needs.

11/05/05 - Verification forms were created and used for all new families.

11/05/05 - Working with Terra at CitizenActionTeam.org.

11/05/05 - Resource Director named.

11/05/05 - Created Spreadsheet for tracking families.

11/07/05 - Partnership with Katrina's Toy Box.

11/11/05 - Coordinated tree removal from elderly client's yard through Common Ground Relief. (coordinated by Karen Iwicki)

11/16/05 - Family with 4 kids adopted by anonymous donor. Donor's daughter had a birthday party in which she insisted her gifts go to a Katrina family.

11/20/05 - 102 families in Angles in Action database requesting help.

11/28/05 - Donation of 100 stuffed animals to Angels in Action Forum. (Kathy Gilbert arranged)

12/01/05 - Pajamas and Books Program contacted. Items sent to Sun/Bogulasa LA for 75 registered families. (coordinated by Karen Iwicki)

12/02/05 - ACT (Agencies Coming Together) Convention attended by Leslie Teltoe in CA. The purpose was to bring everyone together in the same place to make the process for evacuees easier, to form partnerships, and work together to cut through some of the 'red tape'. Teltoe made a speech describing KA and what services we provide.

12/03/05 - Received 25 families directly from mayor in Sun, LA (coordinated by Karen Iwicki)

12/03/05 - Created an in-house Resource Table for outside resources.

12/04/05 - School adopt a class flyer issued.

12/05/05 - Adopt a family for Christmas Program

12/06/05 - Coats for Mississippi Program.

12/10/05 - Wheel chair coordinated and delivered to Powersmith family

12/11/05 - Guardian Angel role created - case management for families - tracking

12/13/05 - Angels in Action volunteers rally to help Katrina's Toy Box by providing funds for shipping.

12/19/05 - Katrina's Angels volunteer Anna Gallagher delivered a truckload of donated art supplies to an elementary school in Louisiana.

12/31/05 - Total evacuees registered into the system is 180. Sixty families have all of their requested resources provided by year's end.

12/31/05 - Storage facility in Alexandria VA offers to provide unclaimed units for hurricane victims
TECHNOLOGY DEPARTMENT

09/02/05 - Bought the domain name KatrinasAngels.com. Began the development of the web site and completed the core web site 9/18/05

09/22/05 - Bought the domain name KatrinasAngels.org. Moved the web site to this new domain name

10/04/05 - Web site moved to servers hosted by Alentus

11/18/05 - Acquired the toll-free phone number with acquisition of KatrinaHousing.org

12/18/05 - Developed the Housing Application and database

12/28/05 - Developed the Evacuee database for the Guardian Angel program
MEDIA DEPARTMENT

12/28/05 - An account created for Katrina's Angels on PRweb.com to submit press releases to the news wire

12/30/05 - First organization press release sent out on the news wire
LOGISTICS DEPARTMENT

12/14/05 - Doug Staley accepted the directorship of the newly created Logistics Department. This department was created to provide our volunteers and partners with shipping and trucking to transport resources to evacuees.

12/16/05 - Began discussions with CHTL Logistics Trucking Company to become a trucking partner for Katrina's Angels

12/17/05 - Created campaign to approach other trucking companies to join our network of trucking partners

12/18/05 - Researched DHL, FEDEX, and UPS to approach them to be sponsors

12/26/05 Began the process of applying for 4th class non-profit shipping account with FedEx for Katrina's Angels

PARTNERS



2005 Partners include:


Katrina's Toybox - Joined 10/12/05 - An organization dedicated to providing toys for children evacuated by Hurricane Katrina.
Housing For Katrina - Joined 11/18/05 - A national web site with database for housing postings
Mission From Minnesota - Joined 11/28/05 - An organization bringing people from the Northern USA to provide services to the affected regions of the American Gulf.

Some results we helped our partners to produce include:
11/18/05 - Katrina's Toy Box mentioned on WWL talk Radio. Angels in Action Forum began receiving numerous requests for help with other needs.